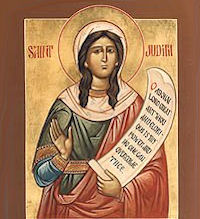 Reading 1
Responsorial Psalm
Gospel
Blessed Jutta of Thuringia
No, I'm not making this up. Apparently there really was a woman named Jutta from Thuringia. She was the wealthy wife of a nobleman. Her husband died on a pilgrimage to Jerusalem and after raising her children, Jutta devoted her life to the care of the poor.
One more thing:
I always love to hear of saints with husbands and children. Sometimes I think it's just impossible to live the gospel with the brood under my roof. But I take courage from women like Jutta and strive to do better. Just like Jerusalem which was captured repeatedly, even when I fall, I get right back up and rebuild my efforts to be a woman of God and the mother he intends for me to be.
Prayer:
Dear Jesus, you healed the leper simply because he asked. Today I ask you to give me the fortitude to continue to live out my vocation as you want me to, especially on the days that are difficult. In your precious name I pray, Amen. Blessed Jutta, pray for me.