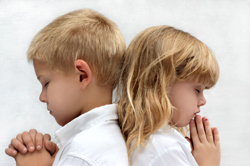 Lectionary: 479
Reading 1
Responsorial Psalm
Gospel
St. Antonio de Sant'Anna
"Behave like God as his very dear children."
One more thing:
I'm humbled when I think of myself as a child of God. I think about all the times I'm correcting my kids and imagine God doing the same to me. More sobering is putting myself in the place of a child who usually misbehaves more often than I get it right. God doesn't put me in time out or take away privileges, but the natural consequences of failing to behave like he does usually results in me punishing myself. If I'm supposed to imitate my heavenly father, then my children are supposed to imitate me. When they misbehave do I see a reflection of myself?
Prayer:
Father in heaven, thank you for showing me how to live. Help me to imitate your great love and mercy and show that to my children, so that their behavior will be a reflection of you. In Jesus' name I pray, Amen.