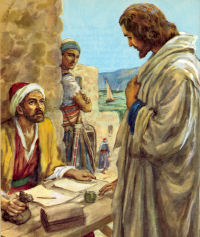 Lectionary: 381
Reading 1
Responsorial Psalm
Gospel
St. Oliver Plunkett
Jesus called Matthew and he got up and followed him. He was a sinner but had complete obedience. Do you ever hear Jesus calling you?
One more thing:
Jesus calls us all: thin and fat, short and tall, sinner and tax collector. Just because you aren't perfect doesn't mean he isn't calling you. Imperfect people can do perfect things if they just say yes to Christ.
Prayer:
Lord Jesus, Thank you for calling me to be the mother of my children, even with my shortcomings. Help me to follow you as Matthew did with full obedience. In your name I pray, Amen. St. Oliver Plunkett, pray for me.